Discover the Amazon Rainforest
The Caiman lodge is in one of the best places in the Cuyabeno Natural Reserve, very close to the Laguna Grande and accessible by canoe all year round. Caiman eco lodge is the newest lodge in Cuyabeno. It has capacity for 40 travelers with different type of rooms, each one with its own private comfortable features. There is also an area to relax, hammocks and an impressive bird watching tower with a great view from the seventh floor over the lagoon and the Ecuadorian Amazon.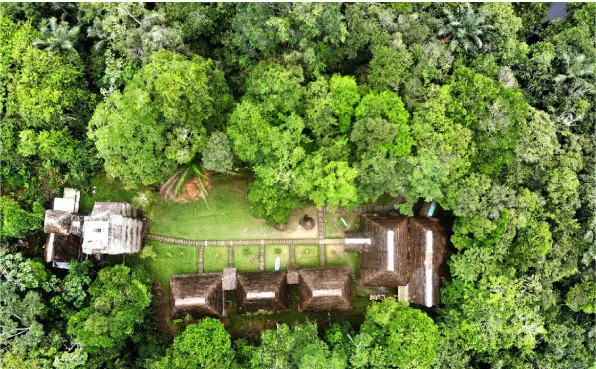 Caiman Eco Lodge itineraries
Prepare yourself to immerse in one of the most biodiverse locations in the world.
CAIMAN 3 DAY ITINERARY
PRICE PER PERSON $250
Day 1 – Journey to the lodge by motorized canoe – Lunch – Relax time – Visit to the Laguna Grande for seeing the sunset and swimming – Nocturnal canoe ride searching alligators and snakes.
Day 2 – Forest trek for learning about the flora and fauna – Ecological rowing canoe – Night walk to see arachnids, amphibians and hopefully nocturnal reptiles.
Day 3 – Optional early morning bird watching – breakfast – check out and return to Lago Agrio town.
Book now
Ask about our Last minute deals and Early bird discounts.
Learn everything about your favorite destination
Accommodation( the lodge provides: double, triple and multiple rooms all with private bathrooms and shower)
Meals and drinks (breakfast, lunch and dinner)
Drinks: water, coffee, tea, hot chocolate, juice.
Complete transportation from Lago Agrio to Caiman lodge and back to Lago Agrio.
A fully guided program with an expert Amazon naturalist guide in English
Rain ponchos and boots for the duration of your tour
Camping equipment
Why to choose Caiman Eco Lodge?
Caiman Lodge is one of the most economical eco lodges of the Ecuadorian amazon rainforest located at the Cuyabeno Wildlife Reserve, nevertheless, the quality of their tours and wildlife approach is just magic.
Book a ticket for Caiman Eco Lodge
Other tours you migth be interested in
Find inspiration from other authentic Amazon Rainforest Tours and complementary trips.