Discover the best Eco Lodges in the Ecuadorian Amazon Rainforest.
We have selected the best Amazon rainforest eco lodges in our three regions: Tena, Cuyabeno Wildlife Reserve, and Coca, where the Yasuni National Park is located.
You can find different types of lodges according to your budget, travel style, and preferences. With 3 to 5 day all-inclusive programs, you will be able to get immersed in the magic and mysticism of the rainforest while enjoying great comforts and different activities that make you feel like the wildest explorer, such as trekking, birdwatching, kayaking, visiting Amazon indigenous communities, tasting local gastronomy, and appreciating Amazon´s unique landscapes and exotic vegetation.
This is definitely the ideal option for nature lovers, join us and explore one of the most biodiverse areas on the planet now! 
Napo Cultural Center Lodge
Napo Wildlife Center Lodge
Start planning your dream Ecuador & Galapagos adventure today!
Get a free quote from our travel experts.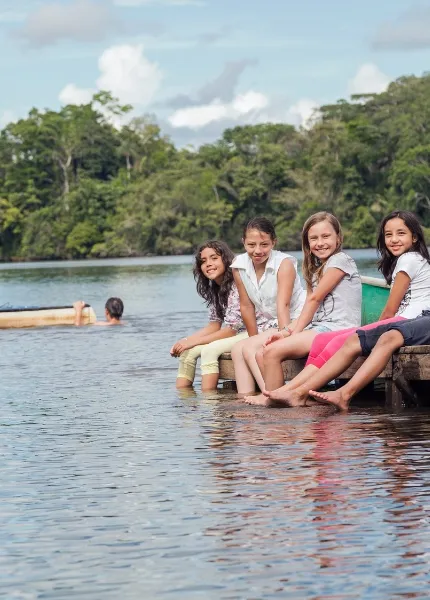 Which is the best Amazon area for me?
We have tour options within our three different Amazon regions, each one with special characteristics that makes each of them special according the type of experience you are looking for. It is important to learn more about what the three regions has to offer, in order to choose the perfect Amazon option:
Tena: The closest amazon destination from the city of Quito, just 4 hours' drive. There is no need for a flight to make it into Tena, so this makes it an even cheaper option. There are a variety of categories for lodges in this destination, from budget to luxury. The wildlife abundance is still high with nice variety in what you can see during short walks every day. Tena is the ideal option if you have just a few days, this destination is also known for having high-adrenaline activities such as rafting, kayaking, zip-lining, and trekking through caves.
Cuyabeno: This destination is about 8 hours away from Quito, and currently, there are just few flights to their airport, so the best traveling option will be an overnight bus ride. The lodges here are more rustic and truer to the park's environment. It is perfect for wildlife and adventure lovers, and here is where you have the highest chances to spot the pink amazon dolphin!
Coca / Yasuní: A commercial 45-minute flight to Coca, the closest city to the jungle, is the smoothest trip option to start an Amazon lodge adventure deep in jungle territory.  Lodges in Yasuni are located in the deep primary jungle, one of the most biodiverse locations in Ecuadorian territory. Here you will find high end lodges with all the comforts in the middle of a mistic zone.
All these tours offer something unique, contact our experts to get a personalized advice on which regions is the perfect match for you!
All off our lodge's staff are highly experienced in jungle tourism and guest service. They will share their knowledge, enthusiasm, and commitment to the environment with you. You'll reconnect with nature and experience the tranquility of the rainforest. To keep this ecosystem as pristine as possible there are not as many internet & cellphone connections, depending on which Lodge you visit you may not have internet access or phone signal at all. Take this chance to immerse yourself in the jungle and make the most out of this amazing place.
Some Amazon Eco Lodges are kid-friendly, usually depending on the kid's age you'll be required to book a private guide. The Amazon, being a natural environment is not particularly recommended for babies or small-children, however the minimum recommended age varies for each lodge.  Contact our experts to find which options you have.


Tena: The accommodation in Tena goes from standard to luxury, if you don't want to travel for too long this is the option for you. It is known as the door to the Amazon.
Cuyabeno: This option is great for adventurous souls; the accommodation is a bit basic but be sure that the services and guides are just great! All lodges have double rooms, however, if you are travelling by yourself some lodges offer shared rooms, contact our experts to have more information.
Coca Region/Yasuni: It offers more variety in accommodation categories: Standard, Mid-range, First class and Deluxe. Al lot of them offer double rooms but the last three offer suites.
The Amazon is known for having the greatest number of species per acre, a wide variety of animals are scattered around the dense rainforest. Since it is a wild environment, we cannot predict what you will see, but here is a list of what has been seen: otters, capibaras, birds (owls, macaws, colorful toucans, and hummingbirds), various monkeys (squirrel monkeys, howler monkeys and capuchin monkeys), pink river dolphins, reptiles, amphibians, and hundreds of other plants and insect species.
Although we cannot guarantee what you will see, we do know exploring Ecuador's Amazon will take your breath away! Read all about Pink Dolphins here: https://expeditionec.com/blog/amazon-river-dolphin/
Adventures and travel tips straight into your mailbox.