About Napo Wildlife Center Eco Lodge
Discover the Amazon Rainforest
The Napo Wildlife Center is located in the heart of the Yasuni National Park, a UNESCO a Biosphere Reserve, the Napo Wildlife Center provides visitors with great opportunities to explore the treasures hidden in the sacred lands of the Amazon Rainforest in Ecuador.
One of the particularities of this hotel is that it is 100% managed by the Kichwa Añangu community, making it the greatest example of a community – based project that benefits the local community and preserves the diverse flora and fauna of the Ecuadorian Amazon.
With 12 ample and comfortable standard cabins and 8 suites, the Napo Wildlife Center complex offers the most comfortable accommodations of the Amazon Rainforest in Ecuador and unique opportunities explore the treasures in the forests and creeks of the jungle.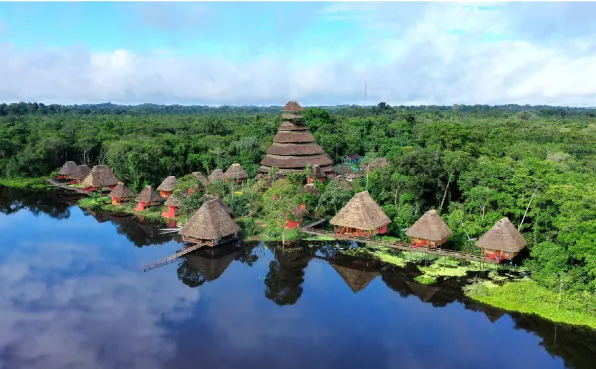 Napo Wildlife Center itineraries
Prepare yourself to immerse in one of the most biodiverse locations in the world.
NAPO WILDLIFE CENTER 4 DAY ITINERARY
PRICE PER PERSON $1.425
Day 1 – Trip from Coca by motorised canoe to Napo Wildlife Center with box lunch and wildlife spotting on route – Dinner at lodge
Day 2 – Visit to the Parrot Clay Lick – "Kuri Muyu" Interpretatition Center – Jungle trek – Dinner at lodge
Day 3 – Visit to Canopy Observation Tower – Forest Hiking – Explore the Lake and Creeks by canoe with great possibilities of running into a Giant otter families
Day 4 – Return journey to Coca with wildlife spotting chances along the route in the dugout canoe.
Book now
Ask about our Last minute deals and Early bird discounts.
Napo Wildlife Center details
Learn everything about your favorite destination
Fluvial transportation Coa – Napo Wildlife Center – Coca
Accommodation in Napo Wildlife Center
All meals according to the packages.
Unlimited coffee, tea and water.
Entrance to parrots and parakeets salting
Spanish & English Guide
Activities and visits according to the itinerary
Entrance to the Yasuní National Park
Book a ticket for Napo Wildlife Center Eco Lodge
Other tours you migth be interested in
Find inspiration from other authentic Amazon Rainforest Tours and complementary trips.