Discover the Amazon Rainforest
The Sani lodge delivers the perfect opportunity to immerse yourself in our primary Amazon rainforest. This lush landscape is home to vast varieties of wildlife including birds, mammals, and reptiles. Encounter this breathtaking biodiversity and incomparable scenery through our low-impact trails built with environmental safety in mind.
By visiting Sani Lodge, you are participating in sustainable tourism that preserves an unspoiled part of the earth and reduces the pressure to allow development that would infringe on our natural rainforest environment.
Staying at Sani Lodge means relaxing in comfortable cabins, enjoying our native Ecuadorian food, and having all the amenities needed to feel at home with the Kichwa. Its goal is to ensure that you have a local integrative experience so that you can feel completely immersed in the magic of the Ecuadorian Amazon rainforest.
Sani Eco Lodge itineraries
Prepare yourself to immerse in one of the most biodiverse locations in the world.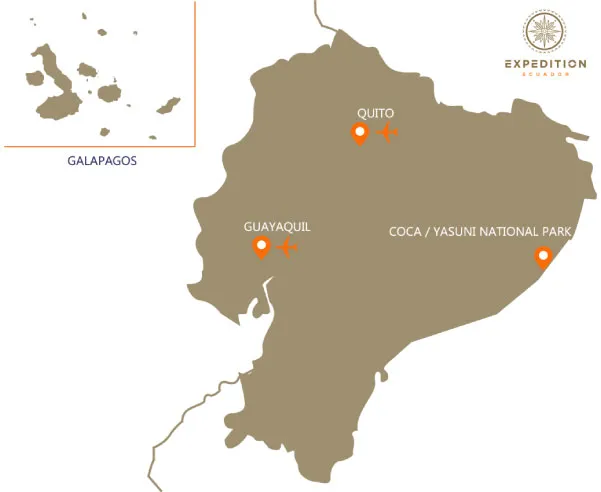 SANI 4 DAY ITINERARY
PRICE PER PERSON $866
Day 1 – Journey from Coca to Sani lodge in a motorized canoe – Box lunch along the way – Canoe ride (Wildlife spotting) and night nocturnal search black caiman.
Day 2 – Canoe Paddle on the Challuacocha Lake – Observation tower (Bird watching & wildlife) – Forest trek – Nocturnal walk for watching insects, spiders & frogs.
Day 3 – Visit to the Parrot Clay Lick at Yasuní – In the afternoon spend time in Sani community center to learn about their customs & culture – Piranha Fishing
Day 4 – Check out – Canoe ride for getting on time for your return to Quito (packed breakfast will be served on the way)
Book now
Ask about our Last minute deals and Early bird discounts.
Learn everything about your favorite destination
Assistance at the Quito Airport if is required
Transportation Coca-Sani Lodge – Coca
Accommodation in a private cabin
All meals starting with lunch on the first day and ending with breakfast on the last day.
Snacks for all excursions
Bilingual Naturalist Guide
All excursions
Rubber boots
Water ponchos
Bottled water is provided free of charge.
Why to choose Sani Eco Lodge ?
Prepare yourself to live incredible experiences at Sani Lodge, from encountering mesmerizing wildlife to exploring serene lagoons and immersing ourselves in the vibrant culture of the Sani Isla community.
Book a ticket for Sani Eco Lodge
Other tours you migth be interested in
Find inspiration from other authentic Amazon Rainforest Tours and complementary trips.