EcoGalaxy II Galapagos Cruise
About EcoGalaxy II Galapagos Cruise
Discover the Galapagos islands
Explore the "Enchanted Islands" on board the M/C Eco Galaxy a First Class Catamaran, built for sailing the Galapagos Islands while preserving its fragile ecosystem, and of course its beauty. The eco-friendly Galaxy offers up to 16 passengers and amazing Galapagos cruise experience aboard this elegant and modern catamaran. The social areas of the catamaran are the perfect place to witness the endless wonderful landscapes in a private and intimate atmosphere. This Catamaran offers eight cabins feature cozy accommodations, private facilities and large picture windows.
EcoGalaxy II Cruise itineraries
Prepare yourself to immerse in one of the most biodiverse locations in the world.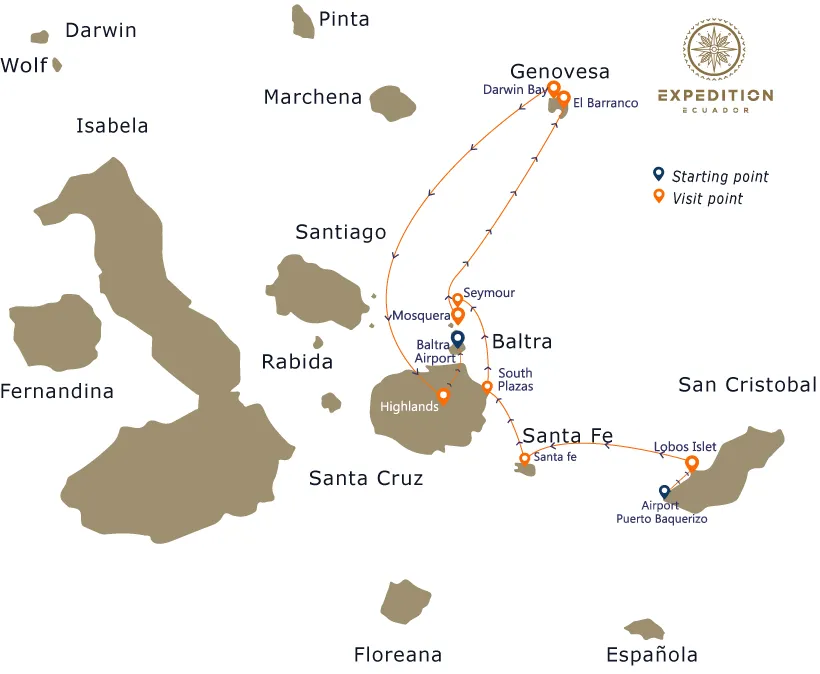 5 DAY ITINERARY A
PRICE PER PERSON $3.200
Day 1 – San Cristobal Island (Airport – Lobos Island)
Day 2 – Santa Fe Island & South Plaza Island
Day 3 – North Seymour Island – Mosquera Islet
Day 4 – Genovesa Island (Darwin Bay & Barranco)
Day 5 – Santa Cruz Island (Highlands) – Baltra (Airport)
Book now
Ask about our Last minute deals and Early bird discounts.
EcoGalaxy II Cruise details
Learn everything about your favorite destination
Transportation and fuel surcharge in the Marine reserve of Galapagos
Accommodation in double cabin according to you booking
Bilingual naturalist guide (English-Spanish)
Personalized crew service
All meals during the cruise, from lunch on the first day to breakfast on the last day
One snack after each activity (except last day)
Welcome cocktail
Unlimited purified water, coffee and tea
All visits, excursions & activities according to the itinerary
Transportation Airport-Channel/ Channel-Airport (Lobitos Bus)
Docks use and ferries.
Snorkeling gear (Mask, tube, and fins)
Use of kayaks and paddle boards in authorized places
Wetsuit
Shampoo, hair conditioner, and soap for daily use
Beach towels
Hair dryer in the cabins
Cloth/Towel dryer
Why to choose Eco Galaxy cruise?
An eco-friendly cruise built­ based on ecological parameters. Equipped with cutting-edge technology for power generation and reduction of fuel consumption.
Book a ticket for EcoGalaxy II galapagos cruise
Other tours you migth be interested in
Find inspiration from other authentic Galapagos Islands tours and complementary trips.