About Grace Galapagos Cruise
Discover the Galapagos islands
There are two different seven-night cruises to choose from when you set sail around the spectacular Galapagos in style aboard the exquisite M.Y. Grace. The first cruise is the "Following in Darwin's Footsteps" trip which starts from Baltra Island and visits Santa Fe Island, Tower Island, including Darwin Bay, Isabela Island, Santiago Island, and Santa Cruz, before finishing on the island of San Cristobal. The second cruise is called the "Beyond Darwin's Footsteps" voyage and it sets sail from San Cristobal to Baltra Island. Highlights of this cruise include Española Island, Santa Cruz, Floreana Island, Rabida Island, North Seymour Island, and Black Turtle Cove. Activities on each adventure include snorkelling, kayaking, riding in Zodiac boats, and hiking. You can be fascinated by an abundance of wildlife in one of the world's most unique places.
Our crew, all professionally trained, will provide you with excellent care from the first to the last day of your trip on board. Relax during your vacation and connect closely with nature. Enjoy the Jacuzzi overlooking the sea, delight your palate with our local recipes and have a cocktail at the bar while sailing through the beautiful islands at sunset
Prepare yourself to immerse in one of the most biodiverse locations in the world.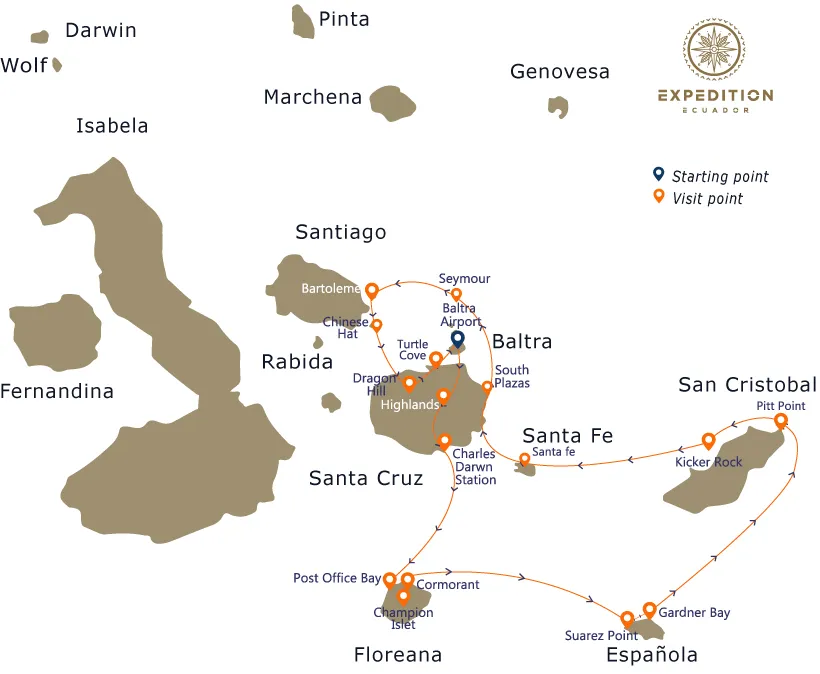 8 DAY ITINERARY FOOTSTEPS
PRICE PER PERSON $8.500
Day 1 – Tuesday (Baltra Island / Highlands – Puerto Ayora and Darwin Station)
Day 2 – Wednesday (Floreana Island: Post Office Bay -Punta Cormorant & Champion Islet)
Day 3 – Thursday (Española Island: Punta Suarez-Gardner Bay & Gardner Islet)
Day 4 – Friday (San Cristobal Island: Punta Pitt- Lobos Island & Kicker Rock)
Day 5 – Saturday (Santa Fe Island – South Plaza Island)
Day 6 – Sunday (North Seymour Island -Bartolomé Island)
Day 7 – Chinese Hat Islet -Santa Cruz Island: Dragon Hill
Day 8 – Black Turtle Cove / Baltra & Flight Home – Airport
Book now
Ask about our Last minute deals and Early bird discounts.
Learn everything about your favorite destination
Transfers airport/yacht/airport in Galapagos
Airport reception and assistance
Double accommodation
Guided expeditions according to the itinerary
Top bilingual National Park guide (English / Spanish)
Cruise Service Officer
Activity daily briefing
All meals and snacks
Soft drinks and juices
Captain's welcome and farewell cocktail
Use of sea kayaks and paddle-boards
Expedition gear
Yoga mats
Kettlebells and dumbbells
Stargazing laser pointer
Book a ticket for Grace galapagos cruise
Other tours you migth be interested in
Find inspiration from other authentic Galapagos Islands tours and complementary trips.